Bowl of Hygeia Award
Ryan Beechinor receives Bowl of Hygeia award
​
Friday, May 16, 2014:
At the PharmD graduation ceremony on Thursday, May 15, Class of 2014 graduate
Ryan Beechinor, PharmD
, received the School of Pharmacy Bowl of Hygeia Award. The Bowl of Hygeia Award is the highest honor given to a graduating student in the School of Pharmacy. The award was presented by
Robert Levin, PharmD
, president of the UCSF Pharmacy Alumni Association which sponsors the award. To be nominated as a finalist for the award is a high honor, and the other Class of 2014 finalists were:
Christine Bui, PharmD
Tien Ho, PharmD
Gary Lau, PharmD
Chad Rockwell, PharmD
The following citation, read during the graduation ceremony, represents a compilation of comments from fellow students and School of Pharmacy faculty regarding Ryan:
Ryan Beechinor brings to colleagues and patients boundless enthusiasm for the profession of pharmacy and its advancement. Ryan constantly strives to better those around him; he seeks interprofessional collaborations and demonstrates pride in his profession at every juncture. He is tireless in pursuit of teaching, innovative in his approach to improving systems and passionate about the science of pharmacy. An excellent student and strong leader, Ryan never hesitates to help his classmates; his positive attitude, work ethic, and dedication to pharmacy are evident in all he does. He has an innate desire to motivate and teach the next generation and a gift for making complex science understandable. Ryan demonstrates a drive to think creatively about the profession, explore novel ways of addressing issues, and a willingness to innovate and think differently. A change agent through word and deed, Ryan "owns" the pharmacy profession. Ryan gives of himself without measure and is certain to be a leading light for the next generation of practitioners.
About the award
The Bowl of Hygeia Award is the highest honor given to a graduating student in the School of Pharmacy at the University of California, San Francisco.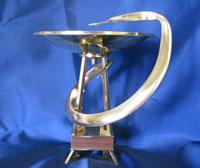 First presented in 1966, this honor is bestowed upon a student by fellow classmates and the faculty, and it recognizes the individual who best exemplifies the qualities most desirable in a pharmacist in action, thought, and attitude. Most important of these attributes are leadership, ability, enthusiasm, and dedication, not only as they relate to the profession of pharmacy, but also to humankind.
The UCSF Pharmacy Alumni Association presents a uniquely designed representation of the Bowl of Hygeia to the recipient at Commencement each year. The award is named for Hygeia, the Greek goddess of health, and is recognized as a symbol of the profession of pharmacy.
About the sponsor
The UCSF Pharmacy Alumni Association exists to support and champion the alumni, faculty, and students of the UCSF School of Pharmacy. Activities of the Association include hosting mentor nights and events at professional conferences, offering financial support to student organizations, and honoring Distinguished Alumni.
Go to: Graduating