Beyond PharmD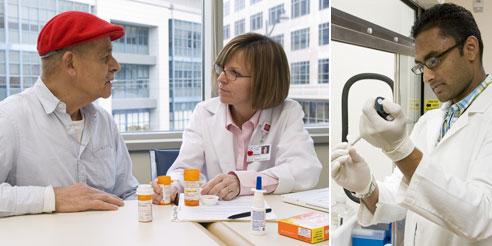 A pharmacist
is a health care provider specially trained to ensure the safe and effective use of medications which today are increasingly complex and highly specialized. As more and more medications appear on the market and as a growing senior population requires more drugs, the demand for pharmacists continues to rise. In fact, in many parts of the United States the need for pharmacists outpaces the supply.
Today's pharmacists master medicines in different ways. They:
Provide direct care and counseling to patients in community pharmacies, clinics, and hospitals
Work in drug research and marketing in the pharmaceutical industry
Teach and conduct research in universities
Safeguard the public through their work in government agencies.
Because of the important roles they play, pharmacists are among the most well-regarded members of the health care team.
To become drug experts, pharmacists must train extensively in science and patient care. The four-year pharmacy school curriculum is rigorous, and today's pharmacy school graduates all hold a doctor of pharmacy degree.
Career options are wide open
Pharmacists are highly trained drug experts. They are responsible for making sure that patients benefit from the right medicines, given in the right dose and at the right time—and that the medications patients take are safe and effective. Pharmacists must consider a lot of things in the process, such as a patient's disease, age, lifestyle, income, other drugs being taken, the side effects of a medication, how a patient's genes affect which medication to choose or how much to give, the cost of medications...and much, much more.
Some pharmacists work in community pharmacies, where you often see them dispensing medications and counseling patients. Others work in hospitals and medical centers, and specialize in areas as such as pediatrics and infectious diseases.
Pharmacists also work for the federal government as they help to set drug policies. They work in the pharmaceutical industry doing research on new drugs, and they teach in universities where they also conduct research.
Plus, pharmacists are among the most respected professionals. In a December 2013 Gallup poll, when people were asked how they would rate the honesty and ethical standards of professionals in 21 different fields, 70% of those polled rated pharmacists as high or very high. This rating was second only to nurses.
Job prospects are good
The job opportunities for pharmacists are excellent and the salaries high. As of spring 2014, the average salary for United States pharmacists ranges from $117,000 to $140,000 depending on title and specialization. See National Results for details.
In order to become licensed to practice, all pharmacists who now graduate from pharmacy school must have earned a Doctor of Pharmacy (PharmD) degree.