Bowl of Hygeia Award
Wong receives Bowl of Hygeia award
At the PharmD commencement on Friday, May 19, 2017, Class of 2017 graduate Gabriel Wong, PharmD, received the School of Pharmacy Bowl of Hygeia Award. The Bowl of Hygeia Award is the highest honor given to a graduating student in the School of Pharmacy. The award was presented by Brian Komoto, PharmD, '81, president of the Pharmacy Alumni Association which sponsors the award. To be nominated as a finalist for the award is a high honor, and the other Class of 2017 finalists were:
Kari Ehm, PharmD
Joseph Styers, PharmD
Meghan Whalen, PharmD
Sierra Young, PharmD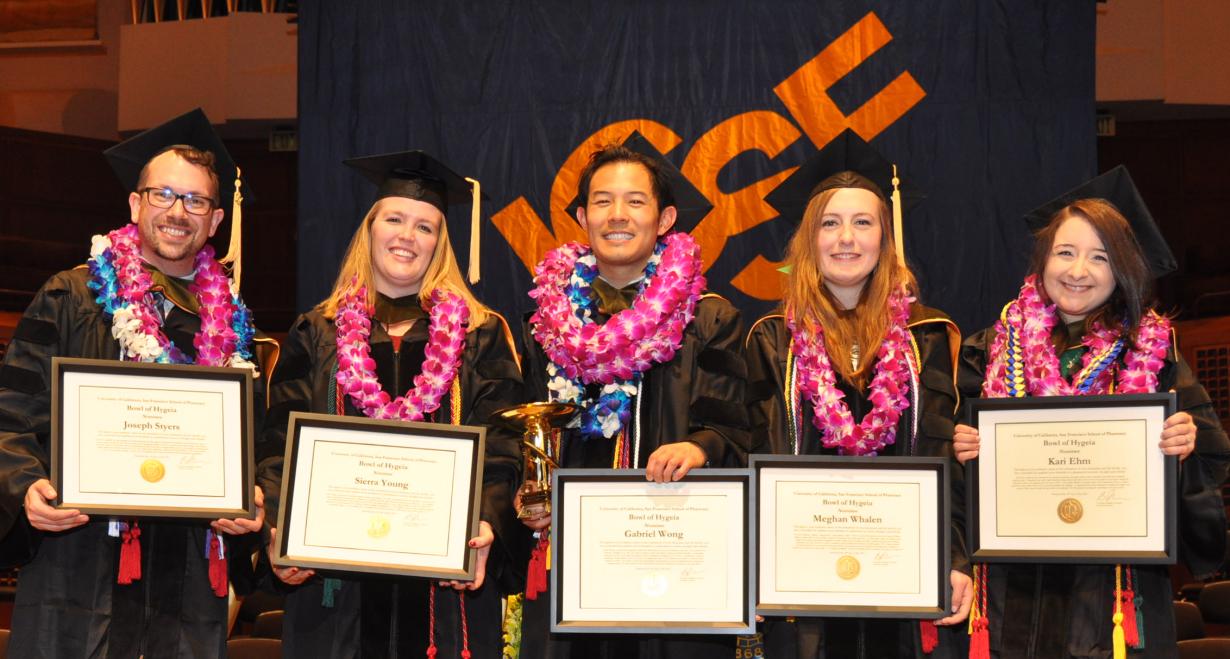 The following citation, read during the graduation ceremony, represents a compilation of comments from fellow students and School of Pharmacy faculty regarding Wong:
Gabriel Wong is a forward and independent thinker who demonstrates his passion for pharmacy at every turn. He is known for his selflessness; willingness to go above and beyond in support of others; and inclusive, tireless, and humble leadership. A tremendous advocate for his class, Gabe offered his support to his peers throughout the program and on all levels–academically, socially, and emotionally. Many members of the Class of 2017 are confident that their UCSF experience was enriched as a result of Gabe's dedication to students. His kindness, work ethic, resourcefulness, professionalism, and drive are foundations for a dynamic and promising career. We will no doubt hear much more about Gabe Wong's contributions to pharmacy in the years ahead.
More photos and coverage: UCSF School of Pharmacy celebrates commencement 2017.
About the award
The Bowl of Hygeia Award is the highest honor given to a graduating student in the School of Pharmacy at the University of California, San Francisco.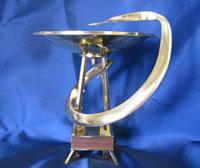 First presented in 1966, this honor is bestowed upon a student by fellow classmates and the faculty, and it recognizes the individual who best exemplifies the qualities most desirable in a pharmacist in action, thought, and attitude. Most important of these attributes are leadership, ability, enthusiasm, and dedication, not only as they relate to the profession of pharmacy, but also to humankind.
The UCSF Pharmacy Alumni Association presents a uniquely designed representation of the Bowl of Hygeia to the recipient at Commencement each year. The award is named for Hygeia, the Greek goddess of health, and is recognized as a symbol of the profession of pharmacy.
About the sponsor
The UCSF Pharmacy Alumni Association exists to support and champion the alumni, faculty, and students of the UCSF School of Pharmacy. Activities of the Association include hosting mentor nights and events at professional conferences, offering financial support to student organizations, and honoring Distinguished Alumni.