Manuel was 8 years old when he moved to the United States, leaving behind his parents and his home in Nicaragua. He and his sister moved in with his mother's parents in Daly City, California where the family hoped the children would be safer than in Manuel's war-torn homeland. "My grandmother saw that I had a better opportunity here," Manuel says. "She didn't want us raised in a country where adolescents were being kidnapped and drafted into the army.
A desire to excel
"My grandparents were very hard-working immigrants. I think they were my inspiration. I had to go beyond that; I had to give back. I had to show my grandparents and my parents that I could do something with my life. There's something to the humility, the working-class ethic, that pushed me to excel at school," he explains.
When Manuel arrived in the United States, he was in 2nd grade and knew no English. "I was always one grade behind in reading until the 5th grade. I excelled at a vocabulary test in 6th grade, and I scored the highest grade. My teacher chastised the other students, saying, 'Look at Manuel, who beat you all.' From that point on, I tried always to be on the honor roll."
Education and early work
When it came time for high school, Manuel returned to Nicaragua, which had stabilized politically, to live with his parents and attend a school where he was taught in English and Spanish. After high school, Manuel returned to the San Francisco Bay Area and attended Skyline College, then transferred to the University of California, Santa Cruz, where he earned a bachelor of science in biochemistry and molecular biology. After graduation, Manuel worked as a research associate at UCSF, in the areas of hepatitis, multiple sclerosis, and other diseases.
At the same time, he constantly explored health careers that involved working directly with people. A physician colleague, who advised Manuel to return to school to become a medical doctor, also mentioned pharmacy in a passing comment. "It lit a light in me; you can interact with people one-on-one in pharmacy."
Fulfilling needs one-on-one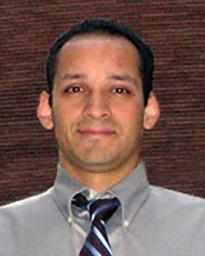 As a UCSF PharmD student and in his work in community pharmacies, Manuel has the value of his Spanish for patients who might not realize there can be simple solutions to health problems. "There was one mother with a child -- they were Hispanic -- her baby was constipated. I recommended an over-the-counter suppository and saved her a trip to the emergency room."
Manuel says he is not certain what he will do when he graduates. "I think I have a calling for community pharmacy," he says. "And I would like to help people who are disenfranchised, particularly the Spanish-speaking community."