Choosing pharmacy
Paul decided to make that contribution through the profession of pharmacy. He applied to and was admitted to the PharmD degree program at the UCSF School of Pharmacy. He guesses that his decision might have been influenced by his father's hospital stay in the 1990s following abdominal surgery. "After my father's surgery, they didn't continue his heart medication, and he suffered a stroke. He was lucky to live through that," Paul recounts. "That experience made me want to get a little more involved -- to have a little more control over what's being done in the health care given to others."
Reaching out to patients
Even as a pharmacy student, Paul is directly involved in health care, advising patients during internships at Long's Drugs and Kaiser Permanente Medical Center in Oakland. As he counsels patients about their medications, he also encourages them to learn about the details of their drugs. "Patients almost never know what medications they're taking. They say, 'It's for my heart; it's for my lungs,' but they don't understand what these essential medications really are or how they work," says Paul.
Explaining medications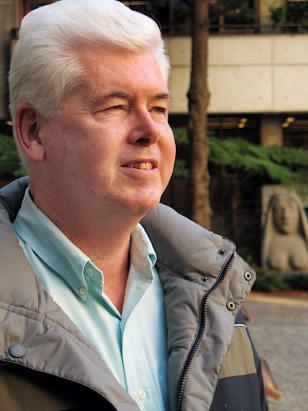 Patient interaction is crucial to pharmacy, he states. Pharmacists can explain the pros and cons of taking a medication and the health and financial impacts of going without. "People see the adverse effect of a medication; it may cause an occasional cough. But that's just a cough with the medication rather than a major heart attack without it," he says. "I also explain to some patients that money spent on the right drugs can be far less expensive than a hospital stay." Clearly Paul is putting his science and sales backgrounds to good use.
Enjoying the journey
Paul is not sure where he will practice pharmacy, but he knows there is a great and growing need for his services as the Baby Boom generation ages. Paul's decision to go back to school sometimes gets a surprised response from others his age. His reaction? "It's enjoying the journey, not the end point. If you don't enjoy the process, you're missing something."