About the Students: Asma
UCSF PharmD Student, Class of 2011
Hometown: Concord, California, USA
Previous institution: University of California, Berkeley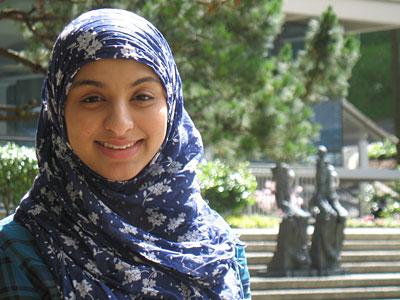 Pharmacy is an opportunity to embody my faith on a day-to-day basis ... in a way, it's prayer through action.
Asma's story begins in India, the country her parents left when they immigrated to the United States over 25 years ago. Though she was born and raised in the U.S., Asma learned a lot about traditional values from her family and enjoyed the benefits of having her extended family play an active role in her life. Her upbringing also included another important influence: religion. As a practicing Muslim, Asma is devoted to helping her community and supporting others—strong values that comprise the backbone of Islamic faith. "Pharmacy is an opportunity to embody my faith on a day-to-day basis ... in a way, it's prayer through action."
Pharmacy school
From a young age, Asma wanted to be a teacher, especially because of her genuine love for children. She was exposed to the idea of pharmacy as a career through her sister, a University of California, San Francisco graduate and practicing pharmacist. As she devoted more time and resources to identifying her future career, she began to see that the pharmacy profession was the perfect marriage of education, health, and science—a very attractive balance, and, coincidentally, just what she was looking for.
Open doors
Her first week at UCSF was overwhelming, she recalls, to say the least. "So many opportunities are presented to you and you realize for the first time that there are limitless possibilities with a PharmD under your belt," she explains. "You can see the doors opening before you, one after the other." One open door in particular involved a volunteer stint for a health fair during her first year of pharmacy school. A little time spent with someone who didn't speak English as their primary language—helping them use an asthma inhaler—was a particularly rewarding patient interaction and one Asma remembers fondly.
Campus role
In addition to health fairs, Asma involves herself in other areas of campus life that have been equally meaningful. As a peer-to-peer educator for Partners in D, she helps healthcare professionals develop strategies for increasing patient access to prescription drugs for underserved populations. As a Class of 2011 student representative on the Educational Policy Committee, she works with student and faculty colleagues to review and improve the PharmD curriculum. The constant reminder that students are valuable contributors to the School of Pharmacy's operation and future makes her realize just how much of an impact she is able to have.
Looking to the future
Now on her way to rotations, Asma sees herself eventually working in a hospital setting as a clinical pharmacist or perhaps pursuing a career in academia. At the end of each day, she often thinks back to that patient interaction she had as a first-year pharmacy student. She is committed to helping others live healthier and enjoy a better quality of life. "If that effort is something I can contribute to, then that's success," she says.
A dose of advice
"If you are considering a career in healthcare, make sure you spend some time researching your options. Only pursue pharmacy once you know you really, truly want to. It's an extremely rewarding journey, but also a challenging one, and with a genuine passion for the profession, you will have no regrets."
Image credit: Shirin Houshangi
Next profile: Isabel
Go to: Student Profiles or About the Students