About the Students: Chris
UCSF PharmD Student, Class of 2016
Hometown: Anaheim, CA
Previous institution: California State University, San Marcos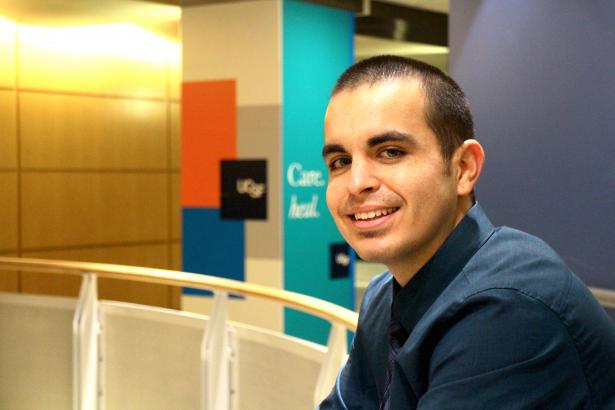 Chris credits his grandparents, girlfriend, and classmates in providing him support and sanity through UCSF's rigorous doctor of pharmacy curriculum.
A calling in pharmacy
When Chris is asked why he chose to pursue a career in pharmacy, several themes emerge: altruism, empathy, and patient care. Through an Introductory Pharmacy Practice Experience (IPPE) he has found his calling in community pharmacy. You'll hear him tell stories of diverse and interesting people who ask for him by name at the pharmacy where he works—stories of providing that extra bit of care that can make a difference to an individual. Just the other day, during his lunch break, he personally delivered medication to a patient. This is the level of patient care Chris has developed through his time as a pharmacy student.
A safe space
As he continued his IPPE at a HIV-specialized pharmacy, Chris found the role of a community pharmacist to be very versatile. In his first experience working with patients, he was able to practice counseling skills, check blood pressure, and administer flu vaccines.
One thing that surprised Chris was the tone and environment a pharmacist can create for a pharmacy. He freely admits he has tattoos and that he often feels judged a certain way for displaying a sleeve of artwork on his arm. Chris wants to create a safe space—an open and accepting pharmacy experience where patients feel comfortable with him as their health care provider and don't have to worry about being judged.
Finding his path
Chris wasn't always interested in practicing in a community pharmacy setting. As a biochemistry major at California State University, San Marcos, he spent his undergraduate years researching seasonal effects of anesthetic induction time in black bears, volunteering with the American Red Cross, and serving as a patient care volunteer with San Diego Hospice. His interest in health care began when he partnered with a hospice team to care for his mother, who was battling cancer. The intimacy demonstrated by the hospice team (including a social worker) helped Chris see the value of helping people when they are most in need. He initially thought his career path would focus on drug development—perhaps finding a cure for cancer. As he spent more time in the community pharmacy setting, he found interacting directly with patients to be personally fulfilling.
The journey continues
As he gears up to finish the Pharmaceutical Care Pathway with Advanced Pharmacy Practice Experiences (APPEs) in the North Bay rotation site, Chris reminisces about his journey thus far. From sleepless nights of studying to the next step of applying his knowledge, he will always be grateful for the experiences that have prepared him to be the best pharmacist he can be. Chris credits his grandparents, girlfriend, and classmates with providing him support and sanity through UCSF's rigorous doctor of pharmacy curriculum. With each quarter completed, he's cherished a tradition with classmates—eating a great meal following every final exam! Chris is eager to finish his APPEs because he has recently accepted a job offer with Rite Aid and thrilled to begin a new leg of his PharmD journey.
---
Photo: Leslie Mach
Next profile: Sarah
Go to: Student Profiles or About the Students