About the Students: Sarah
UCSF PharmD Student, Class of 2017
Hometown: Danville, CA
Previous institution: University of California, Davis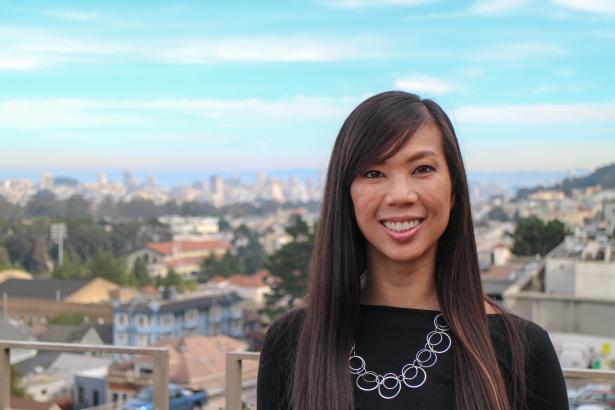 Seeing how Project Healthy Heart promoted the services her papa had received, Sarah feels a strong connection to give back.
Return on investment
Preparing yourself for professional school is a huge investment. As someone who successfully completed her Series 66 and Series 7 exams (tough credentials for finance professionals), Sarah knows the value of investing. Before joining the UCSF School of Pharmacy, she was immersed in the finance industry. With a degree in economics from the University of California, Davis, Sarah pursued work in business analytics and marketing. She began working in private wealth management, with clients whose net worth ranged from $250 million to nearly $9 billion. While working with a venture capitalist, her client brought in industry pharmacists to explain investment opportunities. Sarah became captivated. She was fascinated with how pharmacists found fulfillment in optimizing patient outcomes by managing the safe and effective use of medications.
A different path
Two months later she received an email from the CFO, asking if she'd given thought to pursuing a CFA or an MBA. That's when she knew a career in finance was not where she wanted to be. An alternate career path was in her future, and she decided to pursue a post-baccalaureate program at a local university. Sarah also got involved with CSHP, becoming the first pre-pharmacy member in her chapter. She wanted to understand important issues in pharmacy and to learn as much as possible about the profession. Along with returning to school, Sarah credits attaining a pharmacy technician license and her eagerness to network with pharmacy personnel to strengthen her knowledge of the profession.
An advocate for healthy communities
While there are many opportunities for extracurricular involvement at UCSF, Sarah devotes most of her free time as a Peer Educator of cost saving strategies of generic drugs for uninsured patients and physiology teaching assistant to second year pharmacy students. As a former Project Coordinator and Financial Officer for APHA's Project Healthy Heart, she is an advocate for cardiovascular health by raising awareness through education. Her interest in cardiovascular health awareness stems from personal experiences. Growing up, Sarah often passed through free health screenings at local farmers' markets. She remembers her papa suggesting that there was no need to visit a doctor's office when free clinics were readily available. She was also by his side as he went through triple bypass surgery.
Seeing how Project Healthy Heart promoted the services her papa had received, Sarah feels a strong urge to give back. She works directly with the community and counsels patients on best practices from the American Heart Association on improving and maintaining a healthy cardiovascular system. She also promotes medication adherence by engaging patients in developing strategies and systems to ensure they take their medications. In addition, Sarah is the AMCP Managed Care Elective Coordinator. Speaking of cardiovascular health, she teaches Zumba in her spare time!
Looking to the future
Sarah has many goals she would like to achieve after completing her PharmD. As a California native, she would love to practice in the Sacramento area. As she delves into the Health Services & Policy Research Pathway, Sarah looks forward to exploring ways to develop a solid clinical background. She plans to pursue a residency that will help polish her patient-counseling skills and develop her therapeutic knowledge.
---
Photo: Leslie Mach
Next profile: Timothy
Go to: Student Profiles or About the Students